Wedding Photography: A Journey
...You look back at your work – to learn what you should do to go forward.
- Annie Leibovitz
And suddenly inspiration finds it's way back to me.  Photography has been a long time hobby of mine, it helps explore and satisfy my creativity cravings. I absolutely love other art forms and techniques, but the camera has been my main tool for many years. Every now and then I dust my cameras and lenses. After a long break this year I finally got them out for a wedding photo shoot with an amazing couple. It also came to me after our session that my first wedding photoshoot was back in 2009. At the time I just started exploring photography and this specific genre where I was assisting another Photographer. The funny part is that I did not even have a proper camera at the time like the professionals, you know, the big bulky cameras with bazooka lenses... I had a 4 megapixel Nikon Coolpix 4100 which I originally got to take photos of schedules at University, because mobile phone cameras lacked sharpness during that era. After so many years in photography I took a glance back to where I started and realised it has been a journey, and surely an adventurous one. I do feel I have yet to learn and explore which makes this even more exciting, but also I am in many ways happy of how far I have come in this journey.
Every shoot is a little victory!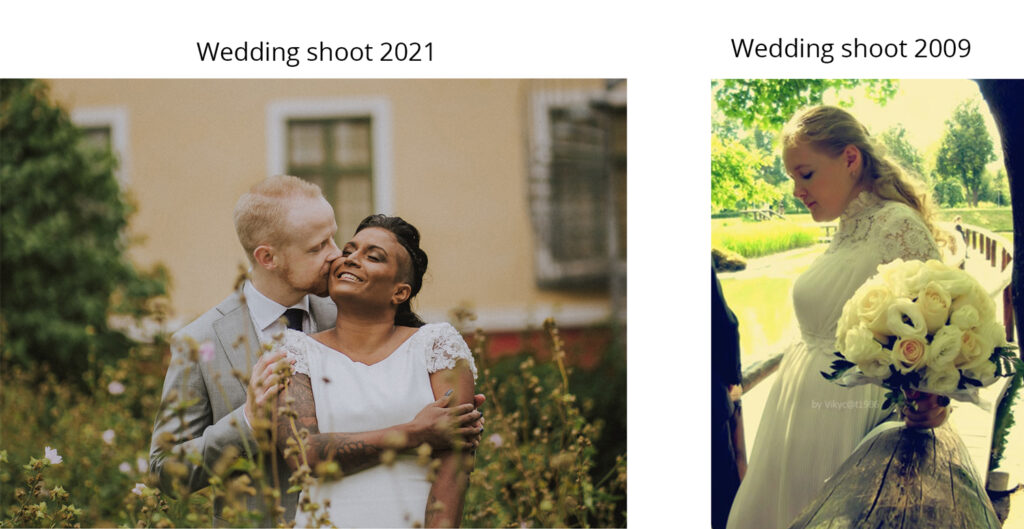 Sandra and Douglas
Our wedding photo session was meant to take place on the Wedding day in Sweden Västerås at Ängsö slott, but due to a cold I had to back down, especially during Covid times. Instead we did an After wedding photo session. It was at the same location and despite this cloudy day we managed to make beautiful shots in dramatic landscapes. I had been at this location on other occasions, but this time I saw it in a whole new perspective. I never realised how grandiose the forest can be, how dramatic and deep, full of mystery and enchantment. The castle Ängsö slott that is meant to be the main attraction just faded in this surrounding. And, of course, added to the scenery were our newly weds that made the surroundings even more magical.